Micah Irish Barroga Sales, 22
Alumnae from St. Thomas University majoring in architecture
"ASIDE from the construction industry, I also and always make time for the things that sparks joy and passion in me that's why I also work part-time for the ASEAN Youth Community (AYC) as a facilitator that trains youngsters and young professionals in leadership and engagement skills to be AseanReady," she writes.
"I am also a Creative volunteer at Holy Spirit Social Centre, a Catholic institution-social-enterprise, that mainly helps indigenous  and homeless people by giving them livelihood and homes. I am also volunteering as a Content creator at Young Professional for Agricultural Development that spread awareness about youth in farming, and lastly, I also give time to help to my local church as an Usher volunteer at Service Ministry," she adds.
"I have known this program through the National Youth Council Philippines (NYC-PH) and I immediately became interested in the program since it tackles a sensitive issue for the Filipino youth which is religion. Although the Philippines is also a diverse country with Christianity and Islam as the major religions, still, the topic of "religious tolerance" is hard to discuss even with the youth community because some Filipinos rather avoid discussing sensitive issues than unconsciously disrespecting others," she admits.
"About the program, everything and everyone had been beyond amazing. I am grateful for the organizers who made effort like this to gather ASEAN Youth to interfaith and create mutual understanding among the different religions and cultures across the ASEAN through learning Indonesia's ways," she says.
Read more:   印度尼西亚政府促进东盟青年的包容態度
"From the first day we arrived until the day we depart, I genuinely felt the hospitality of Indonesians, how they create an atmosphere of belonging and to be honest, I felt home. Throughout the program, we were able to be in the presence of the head ministers of various government departments and was able to meet the Vice President of Indonesia, Sir Jusuf Kalla and I am honoured to even asked a question to him about the how Indonesia's take advantage of the diversity of the people," she writes.
"As an architect, being able to travel and see the great structures from Jakarta, Yogyakarta, and Bali was thrilling for me but aside from that, the greatest experience I obtained from the AYIC Program is learning about the history of respect and love present among the Indonesians and how, not only the government but also the locals, impose 'Bhinneka Tunggal Ika' (Unity in Diversity)  in their everyday lives," she says.
Read more: Indonesian government promoting tolerance among ASEAN youth
What can I  learn or feel 'good 'about Indonesia as a nation and from Indonesian society?
"As a Christian youth being on the largest Muslim nation in the world, I have never felt any difference, maybe aside from the clothing, but the intelligence and warmth of the Indonesians created a common ground for us to celebrate unity among us. Indonesia, as I must say, really lives up to its national motto 'Bhinneka Tunggal Ika' because I witness the actions that the authorities and the people to make their unity built in love and respect become a reality," she concludes.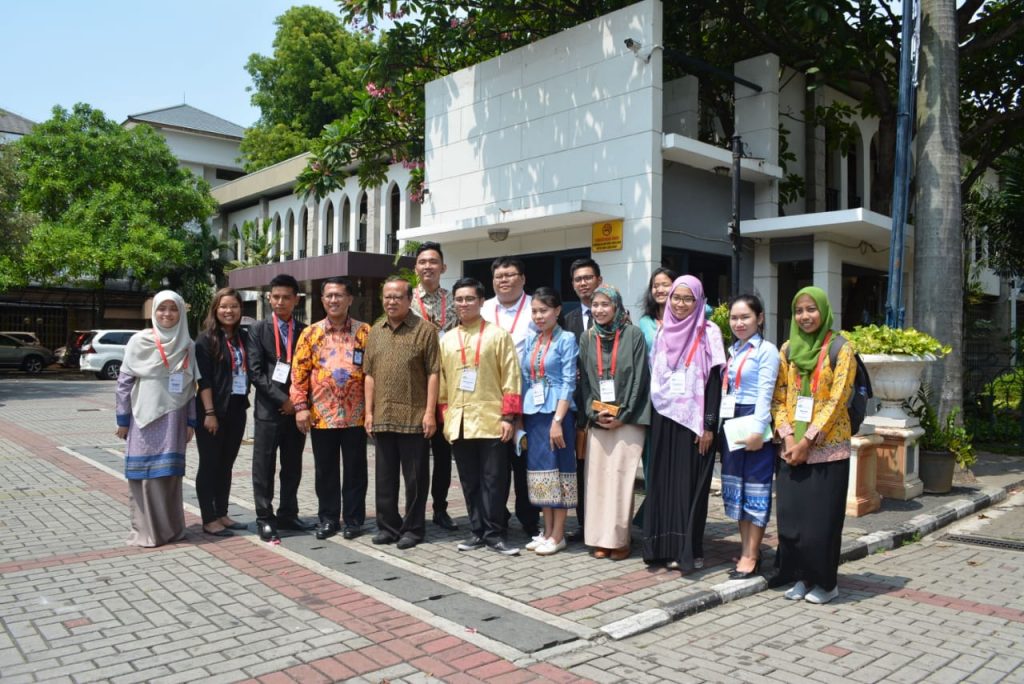 Ms Bun Muy Lang from Cambodia
"It is a good opportunity for me to make friend from different countries and learn about their religion and culture. Moreover, I want to know how Indonesia can manage people to live peacefully with various language, religion and culture. I feel really amazed on how nice the Indonesia people are; they are really friendly, helpful, and kind. Moreover, it is really new to me to see how people from different religion and culture have their own representative to speak their voice and solve conflicts among them if it happen," she writes.
Grooming Future's Interfaith Leaders in ASEAN through AYIC Program (1)
"Benefits that I got from this program are making friends, learning about other religions and cultures, getting to know more about Indonesia such as its history, culture, and beautiful places. Throughout this program, I learn how to live with people from different culture and religion peacefully.
Firstly, thing I learn from Indonesia as a nation is that it is a country which is full of diversity regarding to language, religion, and culture. Secondly, thing that makes me feel good about Indonesian society are that: people proudly show who they are, they respect each other, they help each other even they have different religion or culture," she concludes. 
Ms Maitri Septiya Hendaryani
"AYIC 2018 is my fist interfaith event to join. I was very pleased to experience the spirit of tolerance. Foreign participants also shared with me that they could learn better about Indonesian religious harmony –something different from what they read or listen about Indonesia from social media outlets," she writes.
"Indonesia is a great nation with its philosophical value Pancasila and its "Bhinneka Tunggal Ika". Religion and ethnicity are very sensitivity  issues in Indonesia, but through Pancasila and its Bhinneka Tunggal Ika, we are united and foreign participants really experience on the grand that very special spirit."
"I'm proud of being Indonesian," she concludes.
Ms Fina Nur Rahmah
Student in the Islamic State University Sunan Gunung Djati, Bandung
"AYIC is the event where I could learn other religions and cultures in Indonesia and how should manage myself in my social relationship with other people from different background in Indonesian and in other nations. Experiencing the unity in diversity in Indonesia and with other foreign participants from ASEAN countries brought me to feel that I have 'new' family," she writes.
"Differences need to  make us to feel isolated and separated but it makes every one of us to be very unique. The morale is clear that we  have to  admits our  differences and live in harmony. I think Indonesia is beautiful nation with its very unique situation to have unity in plurality," she concludes.
Photo credit: Religious Harmony Office – Indonesian Ministry for Religious Affairs